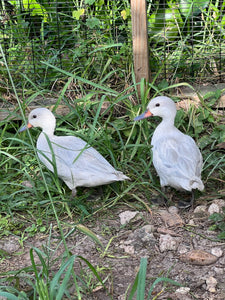 Silver Bahama Pintail (Anas bahamensis)
Regular price
$400.00
$0.00
Unit price
per
-Sold in PAIRS (juvenile male & female) $400 is the total price for the pair not including shipping.
-Once purchased we will contact you to discuss the best date to ship.
-If searching for opposite sex please email us on our contact us page for more information. 
-Habitat: The Silver Bahama Pintails prefer swampy/woody areas and typically thrive in aviary environments. A typical lay is 5-12 eggs. 
-Description: These ducks are a special color mutation of the Bahama Pintail. Their colors include silver, blues, and whites with a red bill and blue slate. They are considered medium sized ducks that can 15-18 inches and weigh 14-19 ounces. They can live over 15 years. 
-Diet: The Silver Bahama Pintails are dabblers meaning they dabble in the swampy areas and eat vegetation, seeds, fish, insects, and waterfowl pellets